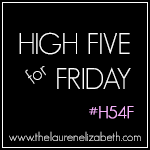 1 ~ Business Writing Class
Doesn't sound like it would be, but that class can be a blast.
We're supposed to be working on proposals for a program for our college, which actually is pretty interesting, but we talked about every type of project but that for about half the class Wednesday.
But classes like that are usually only fun because of the professor. . .
2 ~ Professors Who Cancel Class on Fridays
Yep, it's my Business Writing professor.
He's awesome.
And to his credit, he cancels class on Friday because we turn in a report on our work, so it's not like we're getting a totally free pass.
But still.
3 ~ I got the internship I really wanted!
I've been volunteering at a local non-profit organization for about two semesters, and the work I've been doing has become more and more computer based and complicated.
(One of them actually didn't realize I was a volunteer and was about to hire me as a consultant.)
But now, I can get college credit for working, and I'll get a ton of experience!
4 ~ Mushrooms
I just love mushrooms, but we don't often have them.
We did last night, and that made me very happy.
And while we're on the subject of food. . .
5 ~ Doggy Antics
. . . Our dog Bud has a bad habit of begging.
We don't cave.
"Never?"
"Never! -- Well, hardly ever. . ."
But last night, I heard the telltale sounds of happy licking.
I had dropped some food earlier and picked it up and threw it out, but I figured Bud was just savoring the vapors.
Um, no.
He climbed onto my chair and ate an entire bowl of fettuccine alfredo.
Doggone it.